Frimatec UK-10 – Cold Rooms, Controlled Environment Storage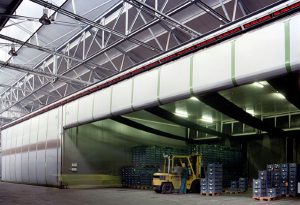 This British company is an established, international cold room specialist and supplier of industrial panels for clean rooms, wall and roof cladding and industrial refrigeration plant.
Its activities cover a broad spectrum of applications from warehouses to supermarkets, hospitals to laboratories, bakeries to fast food outlets and much more.
In recent years the company has expanded to offer a larger product range which includes:
Cold room shelving
Pharmaceutical and catering companies are two of the biggest users of shelving systems for cold rooms. Read this special feature about mobile shelving systems supplied for one of the medical research departments at Cambridge University.

Low cost modular housing
This is a relatively quick and easy to construct, affordable housing alternative to more expensive traditional construction materials and methods. Becoming increasingly popular in developing countries where budget and terrain restraints often delay or prevent new housing being developed.
Climate controlled storage
Climate control is a big factor in the operation of many commercial and domestic businesses. In the commercial sector, many museums and leisure facilities have a need for climate controlled storage and in the domestic sector, it is for the proper storage of wine, fine furs and antiques. Read more about the need for climate controlled rooms.
With more than 30 years of being involved in the manufacture and supply of polyurethane panels, the company has a recognized and sought-after expertise in clean room design and construction. They are also renowned for their work in the cold storage sector including frost heave protection systems.
Internet marketing has provided this company with considerable business rewards over the years. This is what their MD was happy to say about us in this context: "Totally dedicated to achieving only the pinnacle of success for their clients." Click here for more information about Frimatec UK-10 and its products and services.